Today, let's consider Daily Affirmations for Self Esteem. If you wander around The Littlest Way, you'll see I am a firm believer that what we say or think about ourselves, affects who we are for the positive–helping us to lead a joy filled life, or for the negative–causing us to lead discouraged lives.  These thoughts and words we say or think daily about ourselves, they are our daily affirmations.  An affirmation is defined as the truth of something, so our daily affirmations are the daily defined truths about ourselves.  So what is your truth?  What do you tell yourself, about yourself, daily?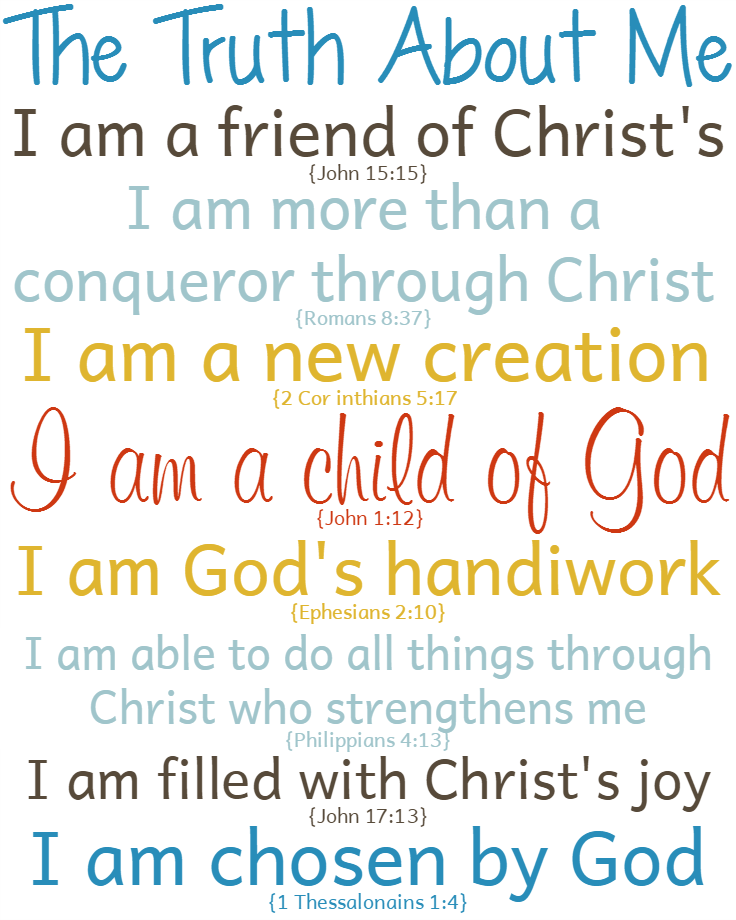 Clicked on the printable once and it will print about 6″x7 1/2″. Clicked it again and it will print out on a full size sheet.
Daily Affirmations for Self Esteem
An official definition of self esteem is, "Self-esteem describes a person's overall sense of self-worth or personal value." But how do we judge or measure self-worth or personal value? What is the criteria for a good self-worth or bad personal value? We could list any number of principles couldn't we…the car we drive, the area we live, the man we married, the clothes we wear, the music we listen to (or don't listen to), the food we eat, the amount of exercise (or lack of), our friends, our credit limit…I mean it's endless! And temporary…and vague…and subjective.
That's like building the foundation of our home on sand, or worse, water! I would prefer to build on stone…even better, a corner stone. Doesn't it seem right that we would want to define ourselves on something immovable and unchangeable?
So our daily affirmations, the truths about ourselves, need to be based on something–Someone–other than self, self perception, and the word's quasi definition of truth.
Hang this printable list of Daily Affirmations for Self Esteem where you can see it every.single.day. Read these daily affirmations out loud to yourself to remind yourself who you really are. The world tries to tell us different. Let the truth about ourselves come from the Creator of the world, not the world. We are not of this world anyway, so don't let it define who or what you are.
Each day there is more encouragement and even some laughs over on my Facebook page. Head over and "Like" me there for more.