I received the Avemaria Press NRSV Catholic Notetaking Bible a few months ago. This post will review the NRSV Catholic Bible Journal Edition. I have used it a little here and there but decide to really break it in this past month to read, write, pray, and study the Book of Romans with our Online Bible Study Community. This Catholic Journaling Bible did not disappoint!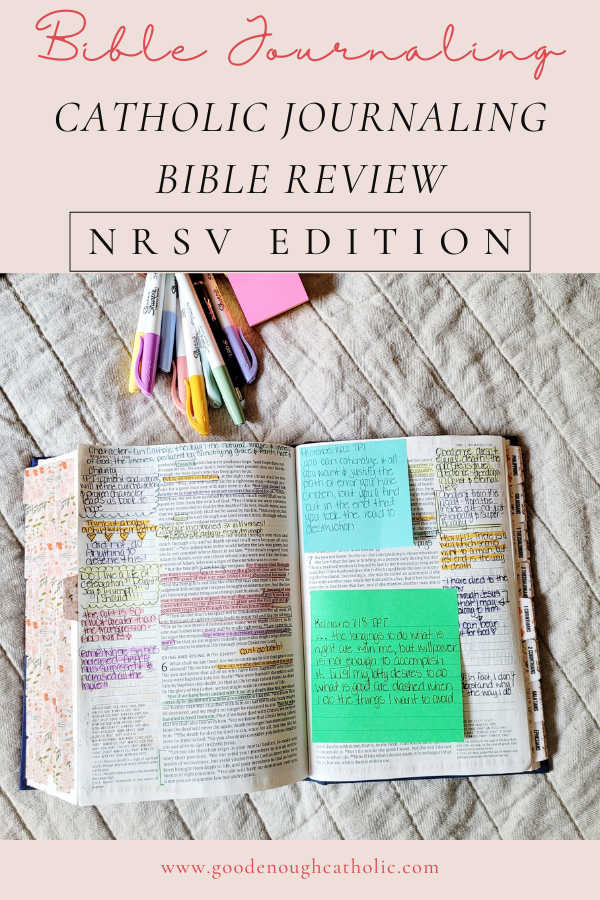 NRSV Catholic Journaling Bible Details:
Publisher Ave Maria Press; Second Catholic edition
Published April 9, 2021
1536 Pages
3.25 Pounds
6.7 x 2.2 x 9.6 Inches
Amazon Description:
The Ave Catholic Notetaking Bible combines exceptional readability, generous margins for journaling and notetaking, and a variety of special features designed to deepen your understanding of the Holy Scriptures.
Thoughtfully crafted by the world's premier Bible designers and featuring the trusted and elegant Revised Standard Version, Second Catholic Edition, this Bible is perfect for men and women, for individuals and groups, and for high school classrooms and adult faith formation.
Comprehensive cross-references to the Catechism of the Catholic Church—a feature unique to this Bible—will help you explore the scriptural foundations of Catholic faith and practice. Essays and reading guides from leading Catholic teachers and scholars will enrich your experience of reading and reflecting on the Word of God. And the beautiful, single-column text design will make this Bible a joy to read.
Amazon Reviews:
"I am really happy with this bible. It is very sturdy and seems as though it will last. But most importantly the type is clear and easily readable and there is no bleed-through when using my Pigma markers."
"Love the setup! I am following Fr Mike's Bible in a Year podcast. This is the same translation. Nice quality binding."
"Love this Bible. The print is easy to read, even for me. The margins are wide enough to take some serious notes – or do some serious artwork if you like. They are lined, but for me, that's a plus. The binding is sturdy and yet very flexible and lies flat. It feels good in my hands. The paper is thick enough to avoid bleed-through from the note-taking and highlighting. I'm looking forward to using this Bible for many years."
"Dream for Catholics who always wanted a bible for journaling…large front for easy reading…wide columns for note taking…real nice !!!!…"
There were a couple of negative reviews:
"This is cheap-made study bible. The cover is a cheap-made cloth that attracts lint, dust, pet hair, and dander. The paper is transparent enough that print from the other side shows through. Lined margins are annoying width: too wide for those that write small and too small for those that write larger, plus the column width is inadequate (better to have unlined so ppl can use note margin vertical or horizontal or doodles are line-free).
Pages so thin that those that use little pressure to write will have embossed reverse page. Footnotes crammed in bottom pages underlined margins in too small of print. No table of contents for beginners. No index to cross-reference subject matter.
The only thing that is a plus about this as a study bible is that there is an Advent reading plan a Lent reading plan and a Read the Bible in a year checklist. Overall, it is a big disappointment. I would not purchase this again nor give it as a gift even if no other study bibles existed because it is just so disappointing on so many levels (and this is just out of the box)."
"Bible very poorly constructed. Doesn't hold its 'book shape' properly and the hardcover feels like cheap cardboard. The printing at the beginning is definitely off and at £27 it's ridiculously overpriced for its quality. I can only assume mine must be from a different source than the others I see in the comments here.
I'm not particularly fussy or have unreasonable expectations but really this is terrible. I've given it 1 star because 0 isn't an option. I will return it and buy the Catholic Bible Press note-taking Bible instead."
Translation
I like this Bible! I prefer this translation-the NRSV, New Revised Standard Version over the Blessed is She Catholic Journaling Bible which is the NAB, the New American Bible Translation. I'll post more about that later, this isn't a comparison post so much as a review post.
Paper Quality
One reviewer noted pen pressure left an embossed mark on the other side; I have not found this to be any different in this particular Bible compared to any other Bible and definitely not enough to list as a con for using this Bible.
The paper has the real paper feel as opposed to some Bibles that have a slick paper feel. I like how once I've taken notes or journaled on the pages, they start to sound crinkly. (If you know, you know, LOL!)
Bible Journaling Margins
The reviewer also mentioned issues with the notetaking margins–size and lines. I like the lined margins for notetaking, which is what this Bible is advertised as. I personally do not prefer unlined margins. The margin width is a good width I think; any wider and it would increase the overall size of the Bible because it would increase the number of pages.
If I do need more room for notes or journaling, I use various sizes of sticky notes that are easily moved around if they cover any text. I like the small square sticky notes and the larger, square, lined notes. (I'll post my favorite Catholic Bible Journaling supplies below.)
Footnotes
I'll be honest, I rarely use the footnotes in my Bibles; I typically cross-reference using the internet. That being said, our Online Bible Study Community started reading, writing, praying, and studying the Book of Tobit this month and one of the very first things I noticed when I started reading Tobit was this footnote,
"The Book of Tobit (The Book of Tobias). The author relates the story of a family living among a pagan people yet trusting fully in God in spite of difficulties, Belief in one God is stressed, marriage between Jews is likewise emphasized and angels figure prominently in the narrative. The book has much to say too about the need for good works."
NRSV Catholic Journaling Bible Extras
There is an index at the front of the NRSV Catholic Bible Journal Edition, as well as some introductory pages. If you are looking for an Advent, Lent, or One Year Bible Reading Plan, this Bible has it!
There are a couple of essays found in the back of the Bible: "Eight Steps to Becoming a Bible Reader" by Mark Hart and "How to Love the Word" by Sonja Corbitt.
Comparing Catholic Journaling Bibles
Just a quick note, if I could combine the three more popular Catholic Journaling Bibles I would have my perfect Bible. I prefer the NLT, New Living Translation, for my daily reading–the Inspire Catholic Journaling Bible uses that translation. But, it has large images meant to be colored in on many of its pages. While this helps some people get comfortable with the idea or the experience of Bible Journaling, I find it a distraction and it gets in the way of my notetaking.
I love the beautiful, hand-lettered Scripture verses found in the Blessed is She Journaling Bible but it uses the NASB, the New American Standard Version, which is not one of my favorite translations. The pages are thinner and slicker in the Blessed is She Journaling Bible as well.
I love the paper quality and reading plans in The Ave Catholic Notetaking Bible (RSV2CE). I also like the Bible reading plans found in the back of this Bible. For daily reading though I prefer the NLT, the New Living Translation.
Which Catholic Journaling Bible Should You Use?
You should use the one you are going to read. I've said this before about Catholic Bibles in general, Which Catholic Bible Should I Use? And I'll say it again with Catholic Journaling Bibles.
If crinkly pages bother you after you've written and highlighted them–then don't get a Bible with crinkly pages; the sound will begin to annoy you. Eventually, the sound of crinkly pages might even be enough of an annoyance to put off and then stop reading.
If you don't like the NLT, New Living Translation, don't get a Catholic Journaling Bible with that translation. Again, the translation issue might just be the last straw you need to put off your Daily Bible Study and we don't want that!
Catholic Journaling Bible Supplies
Bible:
The Ave Catholic Notetaking Bible (RSV2CE)
Blessed is She Catholic Journaling Bible
Inspire Catholic Journaling Bible
Pens:
Sharpie S-Gel, Gel Pens, Medium Point (0.7mm), Black Ink Gel Pen, 4 Count
BIC Round Stic Grip Xtra Comfort Ballpoint Pen, Medium Point (1.2mm), Black, 8-Count
Highlighters:
Sharpie S-Note Creative Markers, Highlighters, Assorted Colors, Chisel Tip, 24 Count
Zebra Pen Mildliner, Double Ended Highlighter, Broad and Fine Tips, Assorted Colors, 15 Pack
BIC Brite Liner Grip Pastel Highlighters, Assorted Ink Colors, Chisel Tip – Box of 12 Assorted Pastel Highlighters
Post-It Notes
Post-It Notes Assorted Sizes Pack
Sticky Notes Set
Bible Tabs
Post-It Notes Tabs
Catholic Bible Tabs from GloriousDei on Etsy
Catholic Bible Studies