We're continuing our series on Bible quotes about patience with a verse from Romans. Reading this verse in different translations was enlightening. You know what else was enlightening? I prefer to have my posts scheduled at the very least, the night before, ideally further out. And on the days I don't, there's typically a reason. Let's take today as an example. The patience verse I chose to write about today is from Romans 5:4, "and endurance produces character, and character produces hope" If my practice of patience today was the sole indicator of my character…yeah, do I really need to say more? Let's try a different translation, "and endurance, experience; and experience, hope" Oh, I gained myself some experience today! Let's hope–haha–there is hope for me yet.
This post may contain affiliate links to products I love and recommend.
Bible Quotes About Patience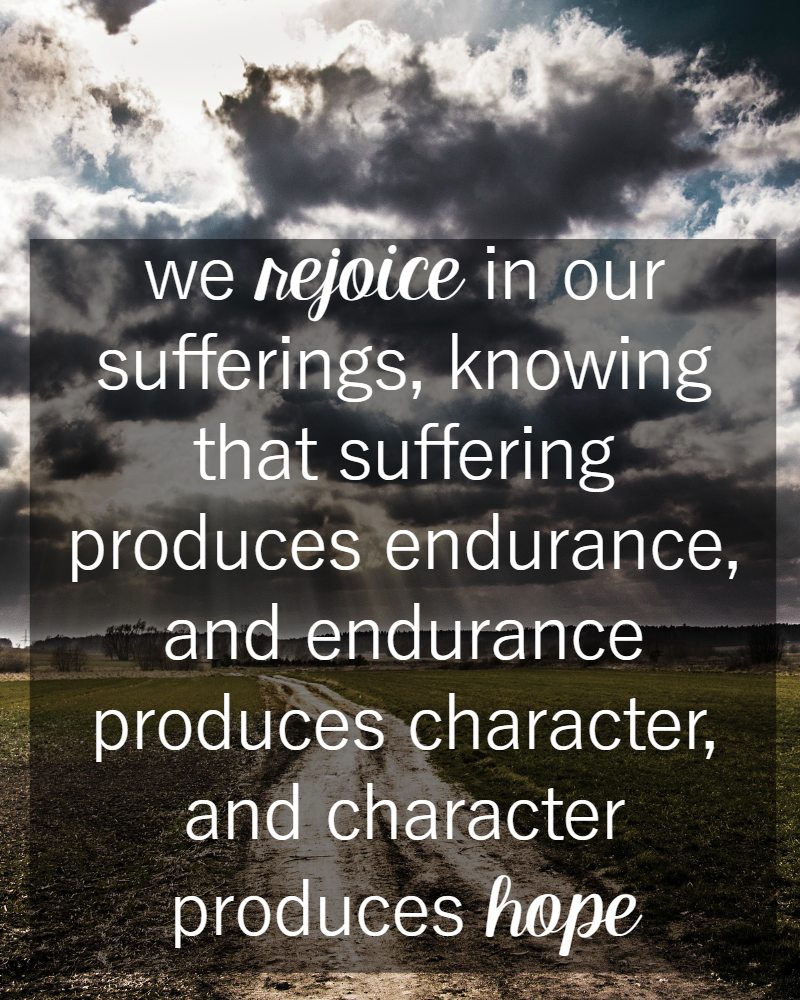 "Gaze often inwardly upon Jesus Christ crucified, naked, blasphemed, falsely accused, forsaken, overwhelmed with every possible grief and sorrow, and remember that none of your sufferings can ever be compared to His, either in kind or degree, and that you can never suffer anything for Him worthy to be weighed against what He has borne for you."
–St. Francis de Sales, Introduction to the Devout Life
St. Francis de Sales remedy for impatience? Look inwardly on our crucified Lord. Yep, I'm pretty sure if I would have done that, I would have behaved differently today. At least I hope and pray I would have.
None of my sufferings can be compared to His. Kids asking me how to spell this word or that…someone wanting another drink of water–with ice, grocery shopping and then standing in line, telling a child for the who-knows-how-many-times to do something, having a broken dryer and a demolished shower–master bathroom shower no less…Oh my gracious, could I get any more selfish?!  I'll say it again, this is the perfect time for me to be writing on Bible quotes about patience.
The Message Bible, which I consider to be a very loosey-goosey translation does help me understand scripture sometimes. Here's the translation for Romans 5:4, "and how that patience in turn forges the tempered steel of virtue, keeping us alert for whatever God will do next." The words that stand out to me, "tempered steel of virtue" and especially the last part, "keeping us alert for whatever God will do next."
Now, that definitely changes things for me. Instead of something being "done" to me–having to stand in line, share a shower with 7 other people (I know, right?! It's almost embarrassing to admit that), turn the dryer back a couple of time (Really Jenny?!?) I need to shift my perspective to see what God will do next. Each one of those meaningless situations is an opportunity for me to seek God–I mean really look for Him in the details. Each one of those opportunities is a chance for me to say, "Hey God, I see you! Look at me, I'm growing in virtue!" Not in a prideful way, in a trusting way.