I am so excited to share this post with you!  I've written about Bible journaling as a form of art, using paint, stickers and various art supplies.  Today I want to share Bible journaling maybe recognized more traditionally using paper, pen and a formula, process or method as we read the scriptures.  This type of Bible journaling can be used in conjunction with the more artistically creative form of Bible journaling or it can stand alone.
Bible Journaling: A Powerful New Method
Are we all familiar with the common acronym seen around for Bible journaling and scripture study called SOAP?  Each letter in SOAP stands for a process or question to use as we read the Word of God
.  The intention is to help us focus our reading broken down into manageable steps meant to help us dig deeper into the Word and then journal our time spent reading and pondering the scriptures.
SOAP stands for Scripture, Observation, Apply and Pray.  Recently there is a new acronym SOAK: Scripture, Observation, Apply and Kneel in Prayer.  These are lovely methods to focus our mind as we read through the Bible
.  They call our attention to not only the words we are reading but prompt us to apply and pray over or about those life giving and life changing passages. But they did not suit me.  Maybe that's because when I started reading my Bible
, I came to the scriptures with a specific goal and need; I came with an intensity like someone in battle choosing their weapon.
Let's flashback for a minute.  Up until about seven years ago I was not a regular Bible reader.  Now about 18 years ago I was a frequent Bible reader, but not regular.  I've mentioned or alluded to this around this blog, but I was in a very bad place mentally several years ago.  I had exhausted what I felt like were all avenues to help myself.  I knew I needed the guidance of another and started looking for a counselor.  I was in a pretty desperate state of mind and providentially God led me to a Biblical counselor.  Instead of self help or medication (which there is nothing wrong with, it just wasn't for me), this man led me to the scriptures.  He called them my "weapons."  Looking back now, although an extremely painful and scary time in life, I can say I am thankful for the guidance, direction and encouragement to seek out God in His Word during that time.
That brings me to my new method of Bible journaling.  You see, I felt weak, helpless and confused during that time.  The counselor taught me the power of God's Word.  I went from being scared and intimidated by the lies of the evil one messing with my heart and mind to speaking the Word of God as a source of truth and strength in my life.
The word of God is powerful.  Period.
I decided recently I needed an acronym that expressed the power I believe God's Word holds.  I also wanted a formula to follow that includes everything I felt I should do or think when reading the Word so I don't just wander around aimlessly…although sometimes I do enjoy meandering through my Bible
.
For the word of God is living and full of power, and is sharper than any two-edged sword, cutting through and making a division even of the soul and the spirit, the bones and the muscles, and quick to see the thoughts and purposes of the heart.  Hebrews 4:12 (BBE)
Before I start reading, before I start my Bible journaling, I need to pray.  I need to get myself in the same space as God.  I need to bring my heart and my mind and even my body into a readiness.  Then, there are observations I need to make–a process to dig a little deeper and examine the verse or passage from various angels.  Next, I have to write.  Maybe it's an age thing or a learning styles thing, but if it is not written down–from a doctors appointment to a passage of scripture–it's just as well lost into thin air.  I also need some space to meditate on the verse or the thoughts the Holy Spirit is inspiring within my heart and mind; I need to envision what this looks like in my life.  And finally, I need to make a response to God.  For me this is a natural part of conversation, a give and take in an intimate discourse.
For the word of God is quick , and powerful, and sharper than any two edged sword, piercing even to the dividing asunder of soul and spirit, and of the joints and marrow, and is a discerner of the thoughts and intents of the heart.  Hebrews 4:12 (KJV)
So the acronym I was inspired to create is POWER.  It doesn't seem as passive to me as SOAK; which is not a bad thing at all…it's just not my thing.  It doesn't seem as incomplete as SOAP; that acronym wasn't cutting it for me in my time in the Word.  I also think with both of those formulas, I was left feeling unprepared and then unfinished.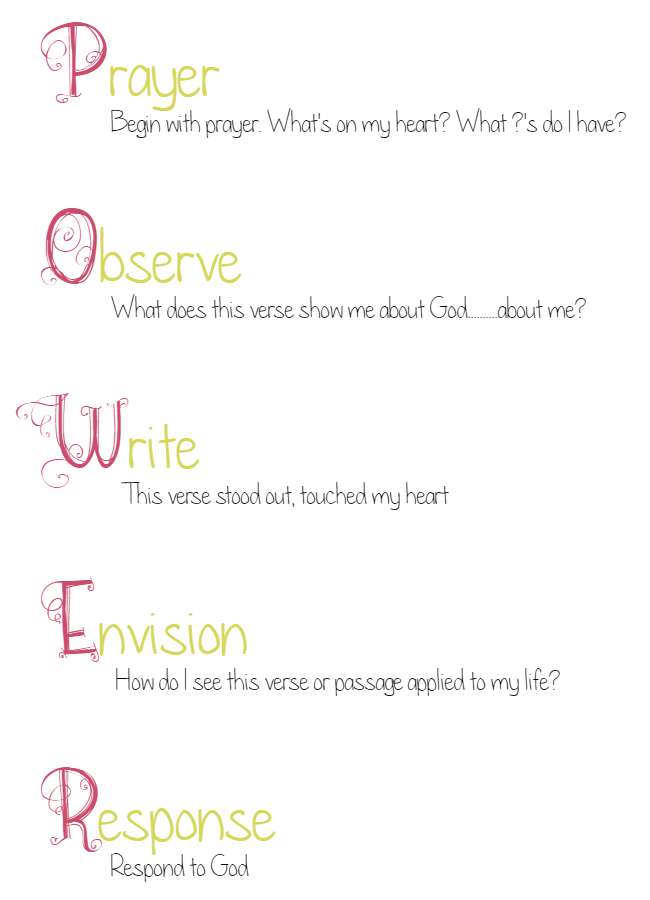 I'll share soon the Bible marking system I use alongside my Bible journaling.  If you haven't signed up to receive The Littlest Way by email, now would be a good time to make sure you don't miss that upcoming post.    Click here
Here is a set of three POWER Bookmarks to place in your Bible.  The first is a reminder of the POWER acronym.  The second and third bookmark have a prayer to pray before reading the scriptures.  These prayers are complete prayers in themselves or you can "freestyle" it alongside them.  Just click the picture below and the printable bookmarks will open.