One of the themes found in this Online Bible Study in the Book of James is, "Faith in Action." And according to the introduction to this book in the New Living Translation, the Book of James covers such topics as pride, discrimination, greed, lust, hypocrisy, worldliness, and slander.
So basically, this Online Bible Study covers life…it literally covers life! It covers the life of the Christian who is in the world but tries to remain apart from the world. Such a tricky, fine line we walk every day.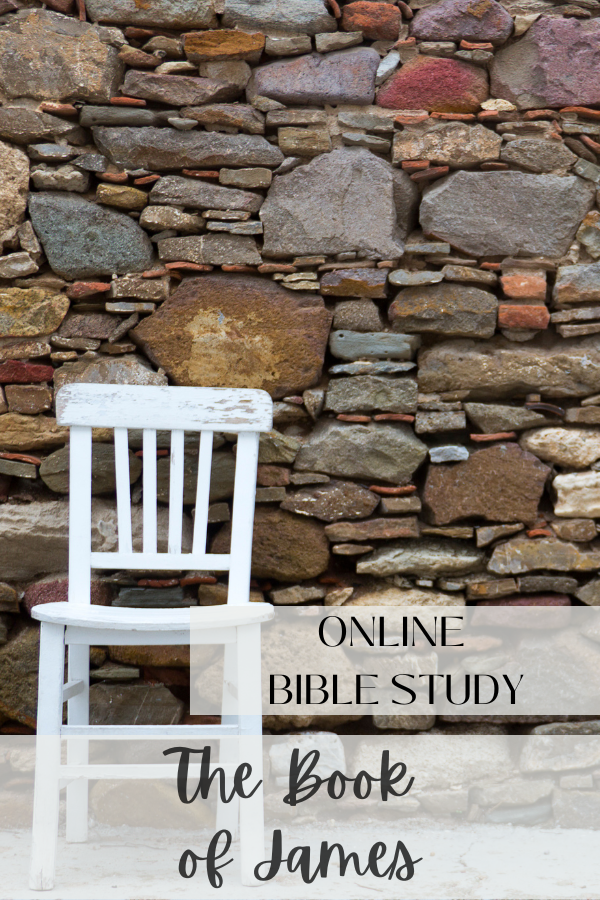 The Book of James Backstory
As I was writing this Online Bible Study a few years ago, I came across this story online. According to St. Hegesippus, James was known to spend time in the Temple alone, on his knees, begging for forgiveness for the people. He spent so much time on his knees praying and interceding for the people, that his knees became hard–"like a camel."
I resolved to tuck that story away. When I don't feel like praying or reading my Bible, when I don't feel like interceding for someone or spending quiet time with God (just being honest here), I want to think of St. James. When I think I'm too busy or I start feeling too distracted, I want to call to mind St. James' knees; worn rough and hard from all of his time spent in devototed prayer for others. Let's talk about praying for others for a minute.
How to Study the Bible Consistently
"If you make a conscious decision yourself that you want to achieve something, this increases your chances of success by 10-25%. Having a clear plan of how you're going to achieve it increases your chances further, to 50%. But if you commit to someone else that you'll do it, there's a 65% chance of success. This increases to a massive 95% if you make a specific appointment with another person, to report back on your progress."
It's not like studying the Bible is hard–you open your Bible and read right? It's not even like finding a Bible Study is hard–check out the Good Enough Catholic Shop! A quick Google search or Pinterest search will turn up more Bible Studies than you can even imagine. So it's not the finding of a Bible Study–it's the execution.
The execution of habitual and consistent Bible Study can get hard in the messy middle of life. And even in those quiet, smooth sailing times of life (there are a few–far and in between right?), consistent Bible Study can get lost in the Holy Ordinary.
Somewhere between the morning light, the needs of others, and the close of the day, Bible Study can get pushed aside–granted, not intentionally, it's just not the squeaky wheel that needs the grease. (Am I the only one who knows that saying?)
If you want to read, write, pray, and study your Bible consistently–join a Bibe Study Group!
Why Online Bible Study?
For a few years, I wanted to join a Bible Study Community. It seems like most Bible Studies fall between–every evening I am carpooling kids somewhere to my only free evening of the week and I'm not going anywhere! So I started an Online Bible Study Community. We can meet live for our Zoom Call Bible Stud or we can watch the recording and contribute in the comments in our private Facebook Group.
I also know there are some Bible Studies that honestly, are just over and above my head. They are heavy on theology and discussion of grand ideas which confuse my overloaded brain and are hard for me to take back into my real life. I wanted a practical, easy-to-understand, simple-to-apply Bible Study that I could carry with me through my best, hectic week.
How to Use This Online Bible Study
This Online Bible Study reading, writing, praying, and studying the Book of James is self-contained and self-explanatory. Download and print the Online Bible Study. Once printed, here's my best suggestion–I've started making my own Bible Study Notebook! Here are the supplies I'm using:
A Happy Planner (Big)–the main reason I love a Happy Planner is that I can add pages to it!
Extra Pages for my Happy Planner–for notes, reflections, and doodles
Happy Planner Hole Punch–so I can turn anything into an insert: church bulletins, things I print off the internet, cards, etc.
Frixion Multi-Colored Pens
Sharpie S Note Highlighters
This post, How to Write the Word, has a step-by-step instructions on how I physically write the Word of God when going through our Bible Studies. Any of my older Bible Journaling posts will also show the specific way I journal my reflections as I read my Bible.
I'll end this post with some beautiful and encouraging words from the Book of James
Come close to God, and God will come close to you.
+James 4:8