I'm reading the book of Sirach for 31 Days. Today, let's consider a man of understanding as found in Sirach 10:25. "…and a man of understanding will not grumble." Let's look at what a man of understanding is and why he does not grumble.
A Man of Understanding
Understanding is one of the 7 Gifts of the Holy Spirit, listed in Isaiah 11:2-3. And in this passage we find out a little about a man of understanding. "…he will delight in the fear of the LORD. He will not judge by what he sees with his eyes, or decide by what he hears with his ears…"
First, a man of understanding delights in the fear of the Lord. Second, he does not judge only by what he sees or hears. The gift of understanding helps us to consider and reason naturally as well as supernaturally. In simpler terms, a man of understanding does not make a rash judgment based only on what he sees or hears. He realizes there may be more than meets the eye as the saying goes.
Let's look at this from a concrete example. Let's say I'm in line at the grocery store and the lady in front of me has a stack of coupons, a pile of price match ads and some government vouchers to pay for her groceries…and the cashier is slow…and there is a box of Froot Loops on the conveyor belt–nobody needs Froot Loops I surmise, especially using government vouchers. But I don't stop there; oh no, my imagination is just getting started. I figure anyone who can afford to buy crispy, colored sugar should not be using government vouchers. And why would she be taking up my time handing over a .25 cent coupon here and .50 cent coupon there? And who cares if bananas are .03 cents cheaper at another store…her annoying idea of how to save money at the grocery store is interfering with my life!
Ugly isn't it?  Sounds like a bunch of grumbling doesn't it?
Now, let's say I use the gift of understanding and I reason there may be more than what I see. Maybe the government assistance is to help provide for her children after the death of their father…or to buy formula for the newborn placed in her care late last night because she's a Foster Mom? What if, instead of an expensive birthday party with inflatables and pony rides or renting out the skating rink, she allows her birthday child the gift of picking out a sugary cereal they don't ever eat? And the nickel and dimes from coupons and price matches? Maybe she ends up saving around $4 to cover the cost of the sugary cereal birthday treat. And the slow cashier…just got hired on after thinking she'd spend her retirement traveling with her husband, now diagnosed with incurable cancer.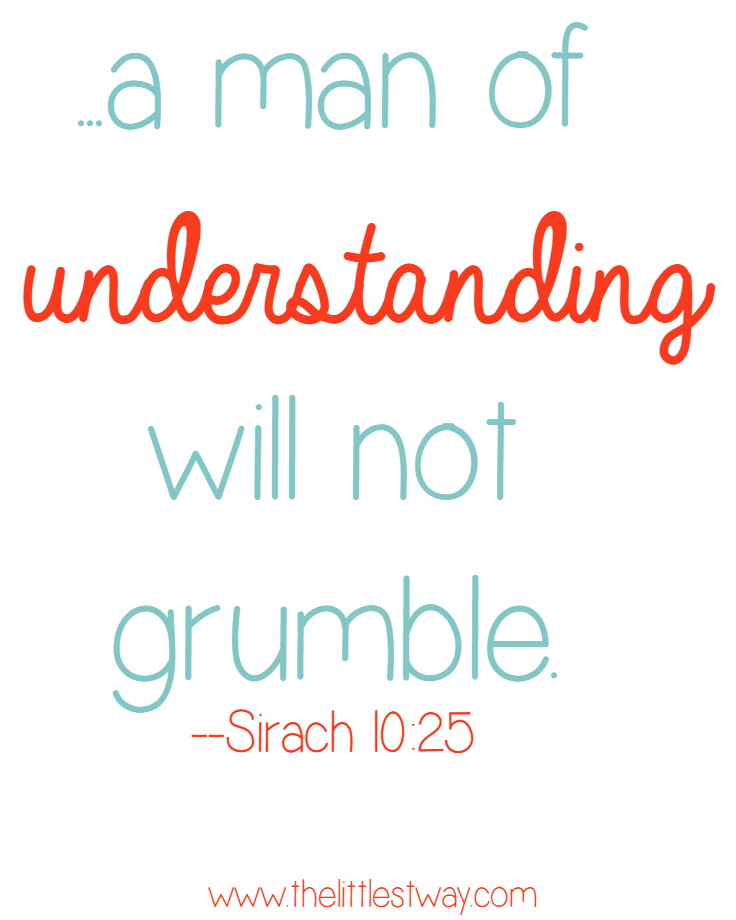 Sometimes, I think we make the Bible too hard. Sometimes…many times, it can apply to us standing in line at the grocery store. A man of understanding could relate to a learned Biblical scholar, or a man who spends time with God and starts to think like God. A man who understands there is no reason to grumble, because we don't always know the whole story of what we think we see or hear.