Day 3 of my 31 Days of writing about patience in the Bible.  I had grand plans about being ahead in my posting schedule.  Not only am I not ahead, I can't seem to write before 10 p.m.  How fitting right?  I had these plans and instead I'm having to patiently work through Bible Quotes about Patience.  You know how they say in Sesame Street, "Today is brought to you by the letter ___."  Well, today's post is brought to you by the Patience Scripture Ecclesiastes 7:8
This post may contain affiliate links to products I love and recommend.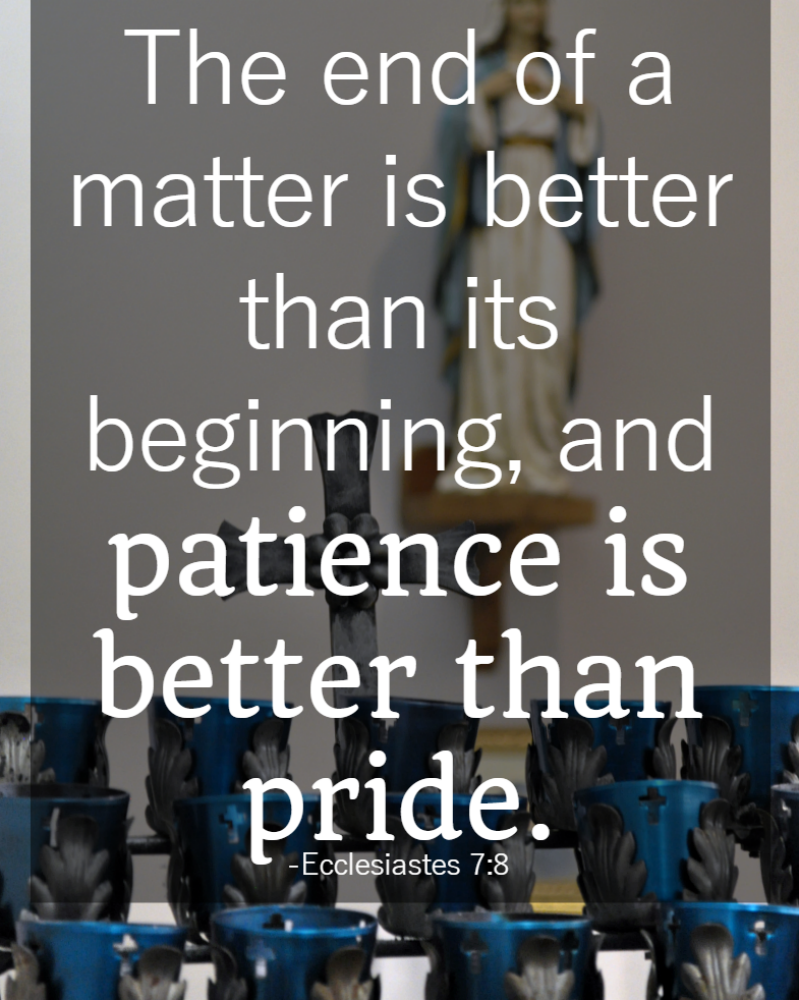 This has to be the Word of God right? Because it is so contrary to our nature and society. The end is better? The last bite is better than the first? The last sip better than the first? The final beats of a good song better than the beginning? I don't think so. And maybe that's why I absolutely should be writing on patience!
This verse seems like two verses joined together with a semicolon. A quick Google of semicolons tells me it is used to join two closely related independent clauses. Let's look at "closely related." Better is the end than the beginning AND the patient is better than the proud. I can see it I think? One more quick check; the Message Bible translates this verse as, "Endings are better than beginnings. Sticking to it is better than standing out." Are you starting to see it?
Here's what I see and I would love for you to share in the comments how you see these closely related clauses. I see that anyone can begin something; it's fun, exciting, adventurous, garners attention, etc. But it's the ending that matters. The one who patiently completes "it," whatever "it" is better than the one–and I would image the beginning number is much greater than the ending number–who proudly begins it. You know what I mean right? I proudly tackle cleaning my closet because I am going to have a Pinterest worthy closet and by the end of the day–if I make it that long–my closet may be sorted and fairly clean, but my bed and bedroom look like my poor closet exploded in and on it. Pride got me started, my lack of patience left me in a worse place than I began. Does that make sense?
A synonym for patience is persistence. Beginning a home improvement task, diet, exercise program, Bible study (ouch!) is always, always easier than finishing it. Patience finishes. Persistence finishes. For some reason writing those two little sentences made me think of our Lord when He says from the cross, "It is finished."
That is patience. That is persistence…That is love.
Is it just me? I kind of feel these 31 Days posts are all over the place? I think I'm still working through what patience is and what it really looks like. So maybe these posts are more ramblings as I try to figure this out?